Isolation, detection, transportation


Description
Packaging
Ref.

Helicobacter pylori Agar

Selective medium for isolating Helicobacter pylori.

20 petri dishes

 

10082

Helicobacter pylori Test

Selective broth for isolating Helicobacter pylori from bioptical and fecal specimens.

20 test

 

20090

Other:

Columbia Agar (Sheep blood 5%)

Mueller Hinton Agar II (Sheep blood 5%)

Mueller Hinton Fastidious Agar (Horse blood 5% + 20 mg/L ?-NAD)

Brain Heart Infusion Agar

Brain Heart Infusion Broth

 

20 petri dishes

20 petri dishes

20 petri dishes

20 petri dishes

20 petri dishes

 

11025

10131

10132

10060

24104

H.pylori CARD

Rapid test for antobodies IgG to Helicobacter pylori determination in human serum.

20 Card

96455

FECAL H.pylori ANTIGEN CARD

Rapid test for qualitative detection of Helicobacter pylori antigen in human fecal specimens.

20 Card

 

97803
Antimicrobial Susceptibility Testing
Helicobacter pylori MIC Test Strip method

Medium
Mueller Hinton II Agar (Sheep blood 5%) or Mueller Hinton Fastidious Agar (Horse blood 5% + 20 mg/L ?-NAD)

Inoculum
72 h (or older) viable colonies are suspended in broth (Mueller Hinton or other) supplemented with 5% serum; adjust turbidity to 3 McFarland. Use 1 MIC Test Strip per 90 mm plate; position the handle of the strip against the edge of the plate.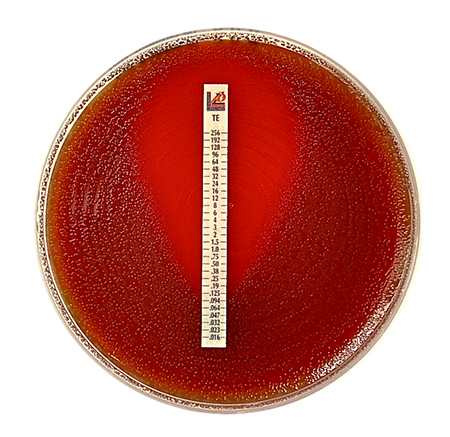 Incubation
35 ± 2°C/ microaerophilic (atmosphere produced by a gas-generating system suitable for Campylobacter)
72 hours (or longer i.e. until a visible inhibition ellipse is seen).
For metronidazole, a 24 hours anaerobic pre-incubation followed by 48 hours or longer microaerophilic incubation has been recommended by some investigators as a better option.

Reading precautions
H. pylori colonies are pin-point, translucent and difficult to see. Tilt the plate and/or use oblique light or a magnifying glass when reading the M.I.C. endpoint. Bactericidal drugs: interpret the M.I.C. at the point of complete inhibition of all growth, including microcolonies, hazes and isolated colonies.
Bacteriostatic drugs: interpret the M.I.C. of hazy zone edges at 80% inhibition.
 
?g/mL
strips per pack
ref.

EUCAST
MIC  breakpoint (mg/L)

S?
R>

MIC Test Strip AMOXICILLIN

 

0.016 - 256

10
30
100

920211
92021
920210


0.125

 


0.125

MIC Test Strip LEVOFLOXACIN

0.002 - 32

10
30
100

920811
92081
920810


1

 


1

MIC Test Strip CLARITHROMYCIN

 

0.016 - 256

10
30
100

920481
92048
920480

 
0.25

 
0.25

MIC Test Strip TETRACYCLINE

0.016 - 256

10
30
100
921141
92114
921140 

1

1

MIC Test Strip METRONIDAZOLE

0.016 - 256

10
30
100
920871
92087
920870 

 

8 


8

MIC Test Strip RIFAMPICIN

0.016 - 256

10
30
100
920251
92025
920250 
 
1

1