Cosmetic and pharmaceutical industries run microbiology analysis in several manufacturing stages, in order to ensure quality and safety of the final product. Liofilchem responds to those needs by offering a wide range of solutions both complying to Pharmacopoeia and ISO standards and customized in format and formulation.
Liofilchem provides a wide range of products for the microbiological testings in cosmetic and pharmaceutical industries, from the microbiological monitoring of air and surfaces until the biochemical identification of microorganism.
Culture media for cosmetics
Liofilchem confirms its continuous dedication to meet the pharmaceutical and cosmetics microbiology needs with the introduction of TAT Broth, a ready-to-use liquid medium for the microbiological examination of cosmetics and topical drugs, particularly from highly viscous or gelatinous materials. This medium, also known as Fluid Casein Digest – Soy Lecithin – Polysorbate 20 Medium (SCDLP 20 Broth), complies with ISO 21149 for detection of aerobic mesophilic bacteria. 

Liofilchem also produces EUGON Broth LT100, a liquid medium for the enrichment and detection of aerobic bacteria in cosmetic products according to ISO standards and Tryptic Soy Broth + Capitol 4, particularly suitable for testing viscous samples.
Culture media for pharmaceuticals
Liofilchem produces media for detecting and enumerating microorganisms with inactivation of antibiotics and disinfectants/antiseptics, thus including compounds such as neutralizers, Lactamator™ and Penase in various concentrations.
The gamma-irradiated, triple-bagged plates are particularly suitable for use in restricted areas like isolators and clean rooms.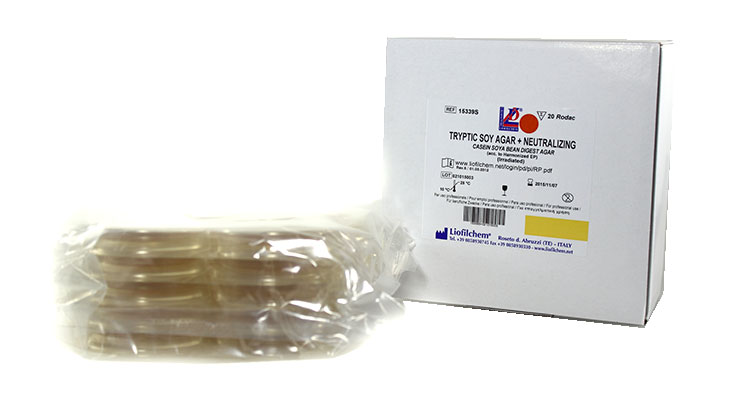 Contact plates (Rodac) in peelable blister pack
The new peelable blister pack fulfills the highest quality and protection standards for the plate.
The blister pack, produced fully automatically and in controlled environment, offers the following advantages compared to the pouch pack:
full transparency of the package;
no release particles during the film opening phase, critical in environment controlled by particle counters;
allows the usage of single plates, leaving the remaining plates protected in their pack;
drastically reduces the dehydration of culture medium during the shelf life period;
permits better product preservation and isolation during transportation and storage;
guarantees the product cannot be handled after the packaging;
avoids contamination of the controlled environment.
The Liofilchem Contact Plates are available in pouch pack formats as well.
Biological Indicators
The regulations USP (United States Pharmacopoeia), EP (European Pharmacopoeia) and DAB (Deutsches Arzneibuch), recommend the use of bioindicators during the sterilization processes of drugs, medicines in vials, culture media, medical instruments and others. Bioindicators are used for the validation, qualification and monitoring sterilization processes.
Liofilchem® provides a wide range of biological indicators for the steam, ethylene oxide, dry heat, hydrogen peroxide and irradiation sterilization processes.
The Biological Indicators manufactured by Liofilchem® are available in ampoule, self-contained, strip, suspension and coupon formats in several materials such as glass, aluminum, poliflex, steel, PVC.
Liofilchem® also produces custom-sized Biological Indicators on request.
All Biological Indicators have a certificate reporting D and Z values, survival time, kill time, population and purity.
Liofilchem manufactures its Biological Indicators in strictly controlled environment to fulfill the requisites indicated in USP and EP and in accordance with ISO 11138 and EN 866 regulations.
Liofilchem also offers the D value calculation service.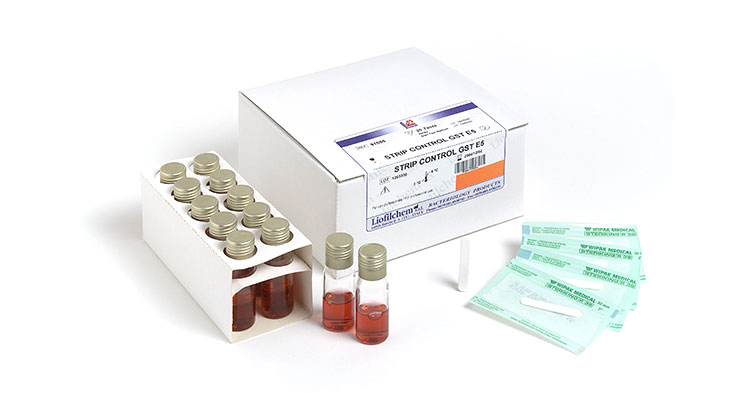 QC Microorganisms
The Liofilchem® CultiControl™ microorganisms are lyophilized, reference stock culture preparations containing a single strain of a microorganism. These microorganism preparations are intended to be used for quality control of culture media, educational/instructional programs and industrial applications. The microorganism preparations are derived from the American Type Culture Collection (ATCC®) or other authentic reference culture collections.
The Quanti-CultiControl™ are lyophilized, quantitative microorganism preparations to be used in industrial laboratories for Quality Control purposes.Processed as directed, these preparations provide a challenge of <100 CFU per 0.1 mL, which is a concentration usually suitable for several pharmaceutical applications, including growth promotion testing of culture media to be employed in sterility testing. The Quanti-CultiControl™ are suitable for the Growth Promotion Test recommended by the international Pharmacopoeiae, without need of intermediate dilution steps, since each rehydrated suspension generates less than 100 UFC for 0.1 mL inoculum. Each suspension (1 mL) allows 10 inocula.