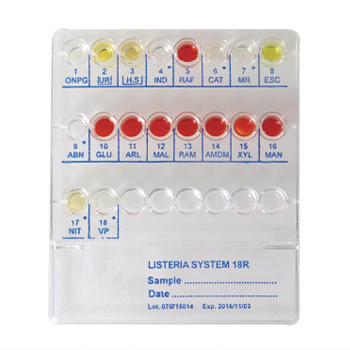 LISTERIA SYSTEM 18R is a system with 18 wells containing dried biochemical substrates for species identification of Listeria genus isolated from cultures in selective or non selective agar media.
The system is inoculated with a suspension of Listeria spp. to be identified and incubated at 36 ± 1 °C for 18-24 hours.
Microorganism is identified through numerical codification obtained by chromatic toning of the several biochemical test.
LISTERIA SYSTEM 18R allows identification in 18-24 hours of Listeria spp. strains isolated in selective and non selective agar culture media from food samples:
Listeria monocytogenes
Listeria innocua
Listeria grayi subsp. grayi
Listeria grayi subsp. murrayi
Listeria seeligeri
Listeria welshimeri
Listeria ivanovii
Jonesia denitrificans
Description
Packaging
Code
LISTERIA – SYSTEM 18 R
System with 18 desiccated biochemical tests in wells for Listeria spp identification.
20
71640
LISTERIA - SYSTEM 18 R - REAGENT
Additional biochemical reagents for Listeria system 18R.
100/200
80257