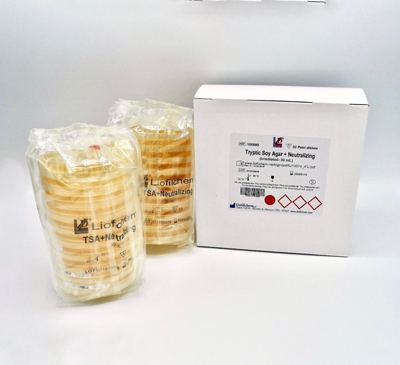 The 90 mm settle plates contain 30 mL of agar to compensate for desiccation after active sampling of 1000 liters of air and are suitable for prolonged incubation to favor the detection of microorganisms.
Settle plates are either exposed to air for a certain time or used with a microbial air sampler to physically draw a pre-determined volume of air, for detecting microbial airborne contaminations. They can also be used for personnel applications (i.e. gloves).
Settle plates are available both as gamma-irradiated, triple-enveloped for clean rooms and non-irradiated, single-enveloped for less critical environments and are conform to international standards such as EU cGMP, FDA Aseptic Guidance and USP 34.
The 30 mL settle plates are available as Tryptic Soy agar (TSA), w/ or w/o Penase or Lactamator in various concentrations and Sabouraud Dextrose agar (SDA). They are supplemented with neutralizers such as lecithin (L), tween 80 (T), histidine (H) and sodium thiosulfate (Th) for inactivating a wide range of disinfectants. Paperless and secure identification of individual plates are granted by the 2D Data matrix barcode on each plate.
30 mL agar plate
20 plates/pack
Gamma-irradiated
Triple-bagged
2D data matrix code on each plate
| Ref. | Description |  Packaging |  Shelf life | Storage temperature |
| --- | --- | --- | --- | --- |
| 10114S | Sabouraud Dextrose Agar (Irradiated) 30 mL | 20 plates 90 mm | 180 days | 10-25 °C |
| 10111S | Tryptic Soy Agar + 0.1% Penase + Neutralizing (Irradiated) 30 mL | 20 plates 90 mm | 120 days | 2-8 °C |
| 10112S | Tryptic Soy Agar + Lactamator 1000 IU + Neutralizing (Irradiated) 30 mL | 20 plates 90 mm | 120 days | 2-8 °C |
| 10116S | Tryptic Soy Agar + Lactamator 500 IU (Irradiated) 30 mL | 20 plates 90 mm | 120 days | 2-8 °C |
| 10058S | Tryptic Soy Agar (Irradiated) 30 mL | 20 plates 90 mm | 240 days | 10-25°C |
| 10059S | Tryptic Soy Agar + Neutralizing (Irradiated) 30 mL | 20 plates 90 mm | 180 days | 10-25°C |