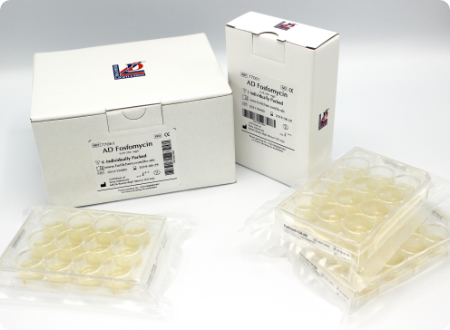 Ready-to-use Agar Dilution panels
The new AD Fosfomycin 0.25-256 is the first and only ready-to-use commercially available kit for performing the agar dilution antimicrobial susceptibility testing, in compliance with the CLSI and EUCAST standards, with 4 months shelf life at present.
The AD Fosfomycin panel comprises 12 wells, containing the antibiotic incorporated into an agar medium in different concentrations, i.e. 11 two-fold dilutions (0.25-256 µg/mL).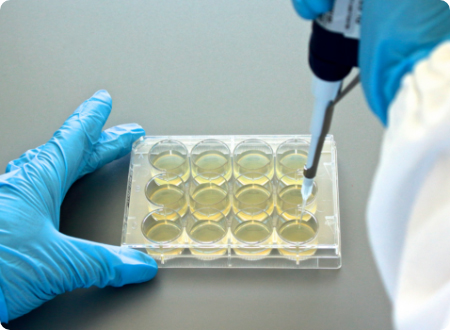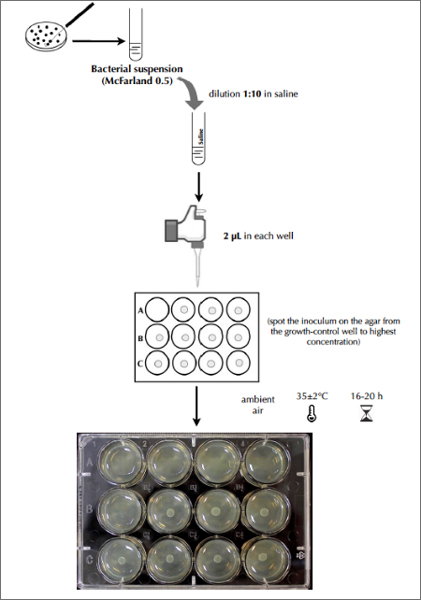 The AD Fosfomycin 0.25-256 panel is the first of a series of agar dilution panels, which will be available as both standard and custom versions, in terms of antibiotics and concentrations.
Packaging 6 tests Catalog Ref. no. 77061
Packaging 1 test Catalog Ref. no. 77001
CE marked. Available in Europe as IVD.
In the US available as RUO device.
EUCAST photographic reading guide
CLSI photographic reading guide
Click here for the complete Agar Dilution range
Test Procedure
References
Fosfomycin Susceptibility Testing Using Commercial Agar Dilution Test
P. D. Croughs, M. Konijnendijk-de Regt, E. Yusuf
ASM Microbiology Spectrum, March 2022
---
Evaluation of the commercial AD fosfomycin test for susceptibility testing of multidrug-resistant Enterobacterales and Pseudomonas aeruginosa
E. M. Parisio, G. Camarlinghi, M. Coppi, C. Niccolai, A. Antonelli, M. Nardone, C. Vettori, T. Giani, R. Mattei, G. M. Rossolini
Clinical Microbiology and Infection, December 2020
---
Gold standard susceptibility testing of Fosfomycin in Staphylococcus aureus and Enterobacterales using a new agar dilution panel
F. Campanile, M. Wootton, L. Davies, A. Aprile, A. Mirabile, S. Pomponio, F. Demetrio, D. Bongiorno , T.R. Walsh, S. Stefania, M.L. Mezzatesta
Journal of Global Antimicrobial Resistance, October 2020
---
Comparable Performance of Commercial Fosfomycin Agar Dilution Panel vs. In-House Agar Dilution of Escherichia coli Isolates
Schuetz AN , Heitman A , Cole NC , Demetrio F , Brocco F
---
Fosfomycin susceptibility testing of S.aureus with different commercial methods
F. Campanile, A. Aprile, C. Bonomo, C. Imbrosciano, A. Mirabile, D. Bongiorno, S. Stefani, M. L. Mezzatesta
---
Valutazione del test "AD Fosfomycin" per la rilevazione della MIC per fosfomicina tramite agar diluizione: esperienza di un singolo centro
A. Deni, A. Zignoli, S. Seclì, S. Ambretti
---
Valutazione delle performance del test AD Fosfomycin in isolati clinici di Enterobacterales multiresistenti
E.M. Parisio,G. Camarlinghi, M. Coppi, C. Niccolai, A. Antonelli, M. Nardone, C. Vettori, F. Brocco, F. Demetrio, F.C. Agostino, G.M. Rossolini
---