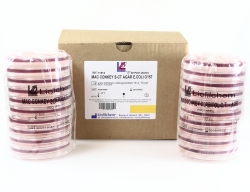 The ISO 11133:2014 standard "Microbiology of food, animal feed and water ? Preparation, production, storage and performance testing of culture media", replaces previous standards and aims at enhancing the reliability of microbiological analyses by standardizing the quality and performance testing of culture media dedicated to microbiological analyses of food and water.
ISO 11133:2014 is intended for commercial and non-profit culture media producing industries as well as laboratories preparing their own in-house culture media.
Media manufacturer, Liofilchem is fully compliant to ISO 11133:2014, for both prepared and dehydrated culture media thus ensuring customers can rely on its high quality products and batch-to-batch media consistency.
Each production lot of Liofilchem media is accurately tested for growth promotion, sterility and reproducibility with a schedule that includes the microbial strains indicated in the standard, therefore simplifying the amount of validation customers have to do in their own laboratories on each lot of ready-to-use media.
The QC certificates have been progressively updated and contain the statement "Tested according to EN ISO 11133", to show and guarantee reliable results and batch-to-batch media consistency.
As Liofilchem manufactures ready-to-use culture media using its own dehydrated culture media, its stringent system of procedures for conformity to the technical specifications and control testing can be followed through the entire production process making full traceability easier.
The full compliance of Liofilchem to ISO 11133:2014 standard, in addition to the ISO 9001 and ISO 13485 certifications, reinforces its position as one of the world class leading manufacturers of diagnostics for microbiology.