Compact Antimicrobial Susceptibility Panel
for determining MIC through broth microdilution according to ISO 20776-1:2019 standard
Broth microdilution is used as a reference method for AST for leading therapeutic decisions. Liofilchem developed its Broth microdilution range on a proprietary compact format, in addition to a large AST portfolio that includes MIC Test Strip, disks and ready-to-use agar dilution panels.
ComASP® delivers real MIC results for antimicrobial agents which are not included in the cards of automated equipments or that are specifically indicated to be used in broth microdilution rather than agar diffusion methods. ComASP® is also available for customizable assortments of agents and concentration ranges, to meet special needs of laboratories of any sizes carrying out antimicrobial susceptibility tests.
Incubation at 37°C for 16-20 hours in ambient air.
At the end of the incubation period watch for the growth in the wells and determine the MIC, i.e. the lowest concentration of antibiotic that inhibits visible growth.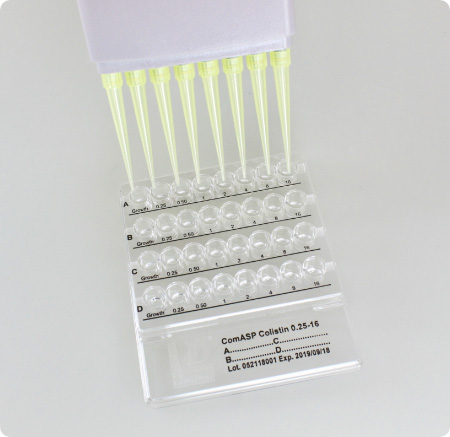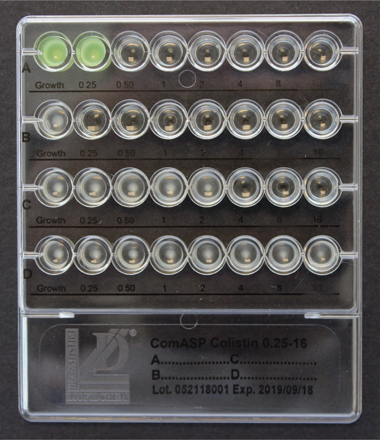 Growth appears as turbidity or as a button at the bottom of the well (compare with the amount of growth in the growth-control well).

The result can be read visually or automatically. Reading by the naked eye can be improved by use of bright indirect lighting against a dark background
CE marked. Available in Europe as IVD. 
In the US available as RUO device.
Click here for the complete ComASP® range
References
The accuracy of four commercial broth microdilution tests in the determination of the minimum inhibitory concentration of colistin.
Yusuf, E., van Westreenen, M., Goessens, W. et al.
Ann Clin Microbiol Antimicrob 19, 42 (2020)
---
Comparative Evaluation of CHROMagar COL-APSE, MicroScan Walkaway, ComASP Colistin, and Colistin MAC Test in Detecting Colistin-resistant Gram-Negative Bacteria.
Osei Sekyere, J., Sephofane, A.K. & Mbelle, N.M.
Sci Rep 10, 6221 (2020)
---
Antimicrobial Susceptibility testing of Enterococcus spp. in a VanB-VRE outbreak setting
P. C. Lindemann, T. S. Haukeland, H. Kolstad, B. C. Haldorsen, K. Hegstad
NSCMID 2019
---
Evaluation of three methodologies for in vitro susceptibility testing of Ceftolozane Tazobacatam (C/T)
E. Widlake, TR Walsh, JM. Tyrrell
FEMS 2019
---
A comparison of Piperacillin-Tazobactam and Colistin ComASP® (SensiTest) MIC to CLSI Broth Microdilution MIC for Gram Negative Challenge Isolates
L. Koeth, J. DiFranco-Fisher Lab. Specialists, Inc., Westlake, OH
ASM Microbe 2018
---
Evaluation of ComASP® (SensiTest) Colistin, a commercial broth microdilution-based method to evaluate colistin MICs for Klebsiella pneumoniae isolates
Irene Galani, Panagiota Adamou, Ilias Karaiskos, Helen Giamarellou, MariaSouli
ECCMID 2018
---
Clinical Validation of ComASP® (SensiTest) Colistin, a Broth Microdilution-Based Method To Evaluate Colistin MICs
Edoardo Carretto, Flavia Brovarone, Giuseppe Russello, Paola Nardini, Maisra M. El-Bouseary, Ali F. Aboklaish, Timothy R. Walsh, Jonathan M. Tyrrell
DOI: 10.1128/JCM.01523-17
---
Preliminary evaluation of the ComASP® (SensiTest) Colistin, a broth microdilution based method to evaluate colistin MICs
Edoardo Carretto, Flavia Brovarone, Mariagrazia Sciascia, Giuseppe Russello
ECCMID 2017
---